4 Apps to Keep Your Design References Organized

February 24, 2021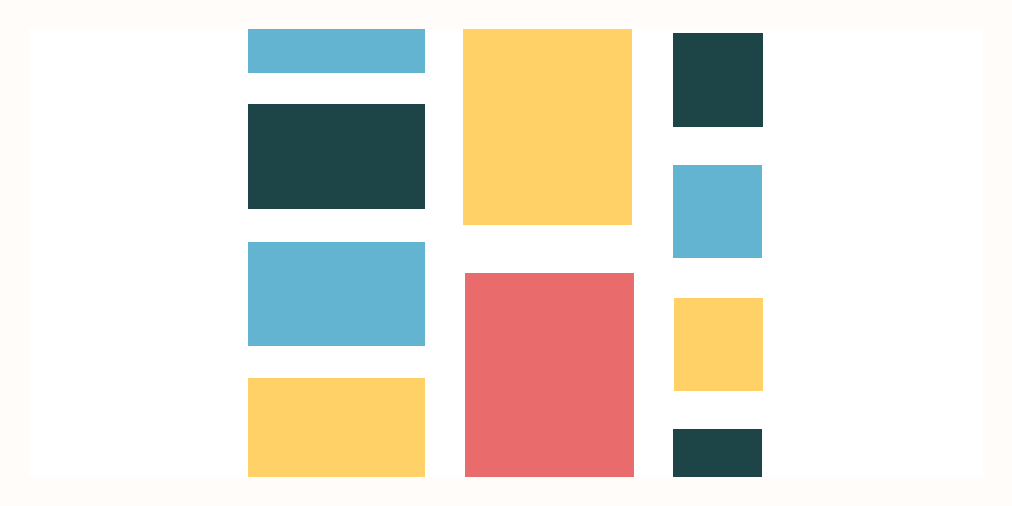 A Designer's work requires a lot of resources: mood boards, photos, screenshots, mockups, fonts, links, design files. So how do you keep all your design-related files organized and avoid cluttering your desktop or clogging up your Downloads folder?
The answer: There are apps for that. And today we'll take a look at four such apps that are particularly helpful when you're trying to keep your resources in order.
Eagle
Eagle is a feature-rich tool for organizing and collecting your digital assets. Eagle allows you to plug in your local folders, save images straight from your browser, and sort your files manually or automatically.
Once you've installed the Eagle desktop app, you can drag and drop images directly from the browser to your design library. You can also run a browser extension that lets you save images to Eagle via the right-click menu. And it gets better: The Eagle extension can batch-save all the images from a web page, save specific areas of the web page, or even save the whole web page to your library in the Eagle desktop app.
Eagle makes it super-easy to organize and manage your library: You can create folders and tags to sort and identify the files, and search and display images by tags, names, colors, description, URL, comments, and notes.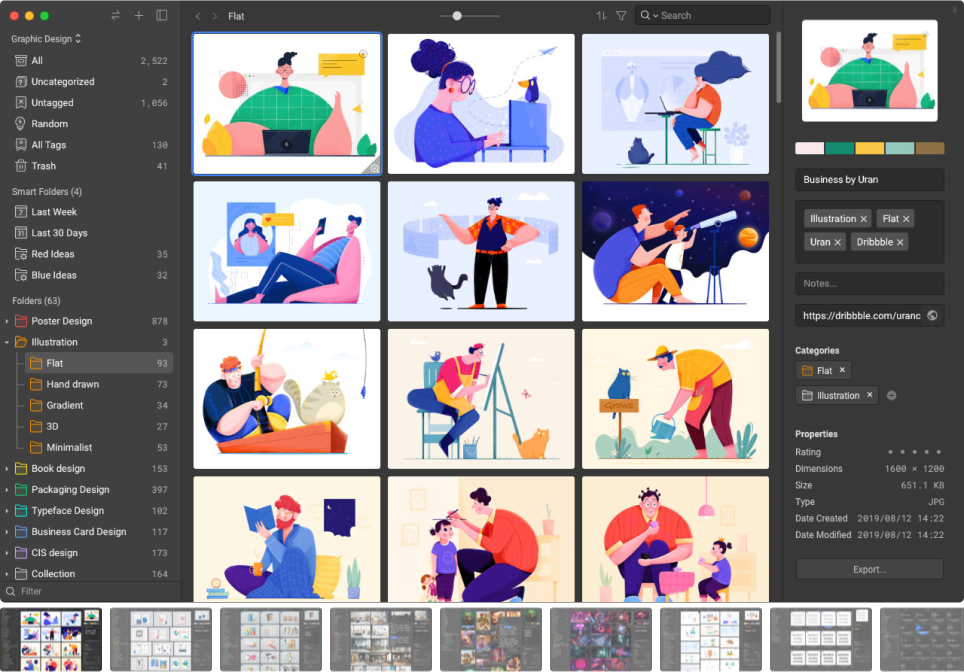 A note on sharing your resources: Eagle is a local app, so if you're planning on sharing your files or accessing them from another device, you'll need to put them in Google Drive or Dropbox so they can be synced through the cloud and shared across your devices, or with your team.
Overall, Eagle is a powerful image-type file library that lets you download and organize design assets. Eagle generates high-quality previews for almost all design file formats and allows you to add context to the images and sort them as you like.
Pricing: One-time purchase with free updates: $29.95. One license is good for two devices.
Platform: macOS 10.13+ or Windows 7+ 64bit. Extensions are available for Chrome, Safari, Firefox, and Edge.
Raindrop
Raindrop is a bookmark manager app. Like Eagle, it works with extensions - you can save all the links you need, organize them into folders and subfolders, tag them, and search through them. Depending on your preference, Raindrop displays your files in list view or by using thumbnails with more info and images. You can even preview the contents of the bookmarked pages without having to open it in the browser.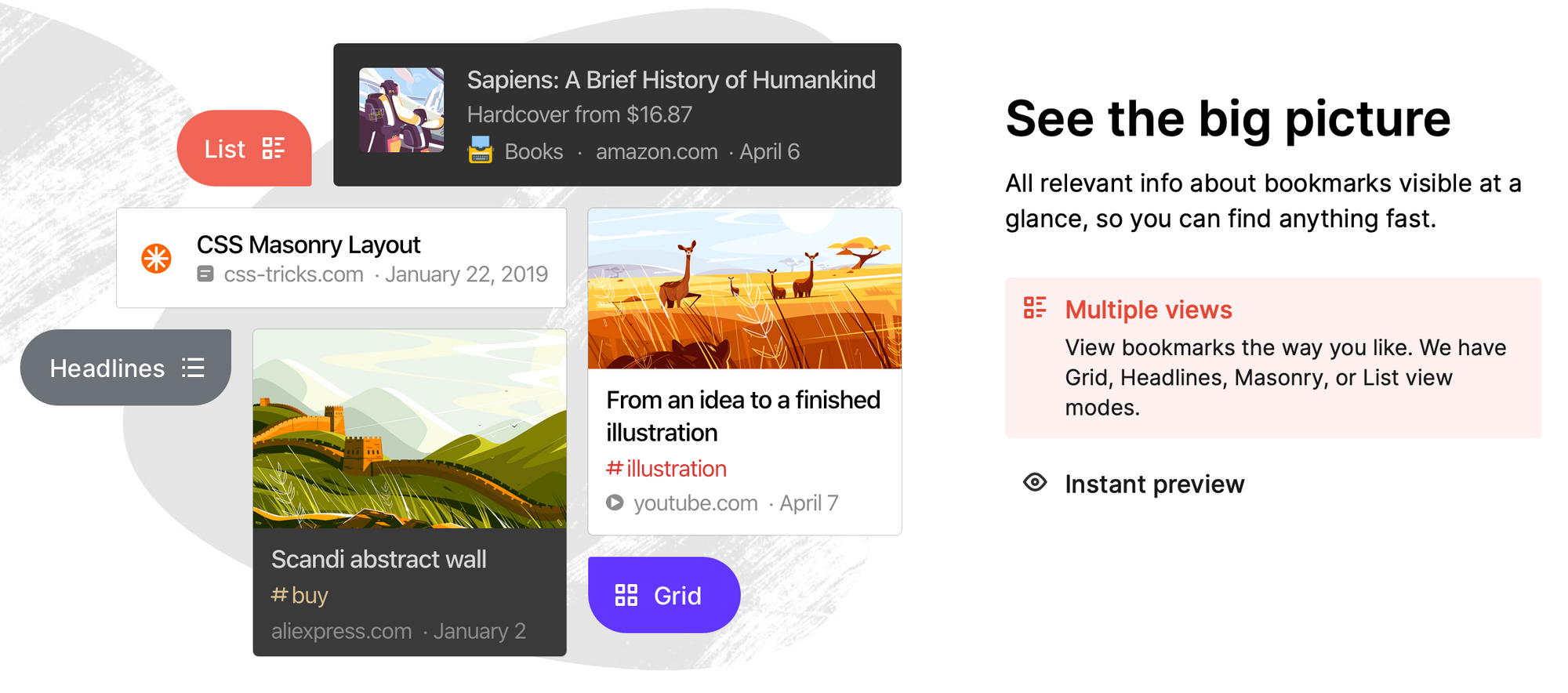 Raindrop comes with an array of cool features: You can save your Twitter or YouTube favorites to your library, upload your own files, create your own integration through Zapier, use full-text search through articles, and more. To make your files available anytime, anywhere, install Raindrop on all your machines. This allows you to sync your library across devices, share it, and even make it public for other people to browse.
Pricing: Free version with essential features. Pro version: $29.40/yr.
Platform: Desktop apps for Windows and macOS, mobile apps for Android and iOS. Extensions for Chrome, Safari, Firefox, Opera, and Edge.
Milanote
Milanote is a mood board tool. It comes with a lot of nice perks, such as adding sound, color references, and videos to your mood board. Milanote isn't technically a "library management" tool, but we're including it here because it offers a great way to organize or present your more refined findings. Here's how it works: You drop everything necessary on the board, arrange it, leave notes, and share with your team or a client – with or without permission to edit.
The Milanote mobile app conveniently allows you to save images from your phone straight to your mood board thus circumventing the tedious process of looking for the saved references in the phone's gallery, transferring them to the laptop, and then dragging and dropping them onto the mood board.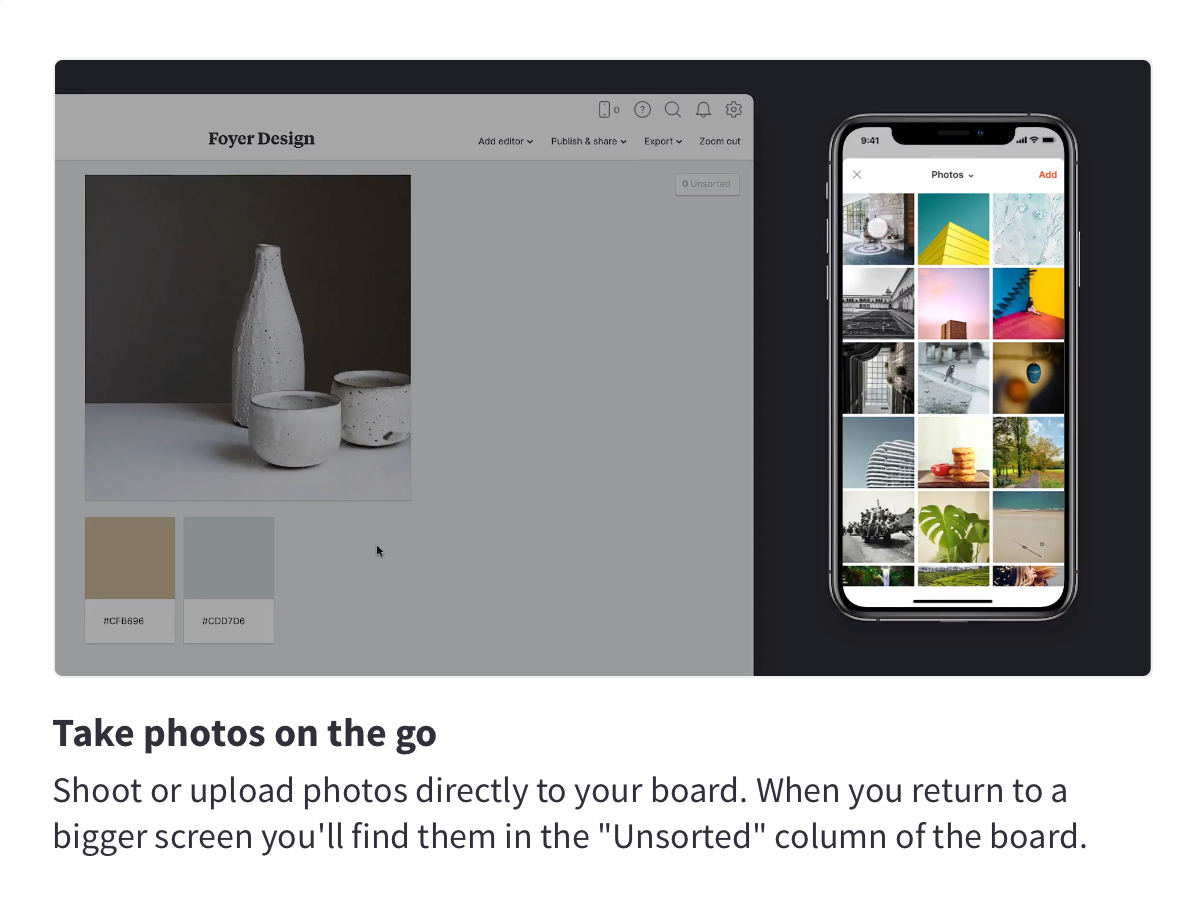 Another nice feature: You can export everything to PDF or text format to share the final version or save it for your records.
Pricing: You can use a limited version for free, but if mood-boarding is a thing you do constantly, you'll probably want to invest in a personal paid plan, which includes unlimited images and file uploads. The personal paid plan sets you back $9.99/month, billed annually (or $12.99/month billed monthly). Team subscriptions are available for groups of up to 10 or 50 people.
Platform: Web application, mobile applications for iPhone and Android.
Adobe Bridge
Adobe Bridge is a powerhouse of a design assets management tool and a part of the Creative Cloud ecosystem. If you're working with other Adobe products, Bridge is the ultimate design resources library, providing sorting, search, ratings, tagging, and even built-in photo editing capabilities.
Bridge supports all the Creative Cloud apps, so it works with Illustrator files, InDesign files, and videos. You can export those files in any common format right from Adobe Bridge. Overall, Bridge conveniently allows you to seamlessly move from one Adobe product to another and share and organize resources between them.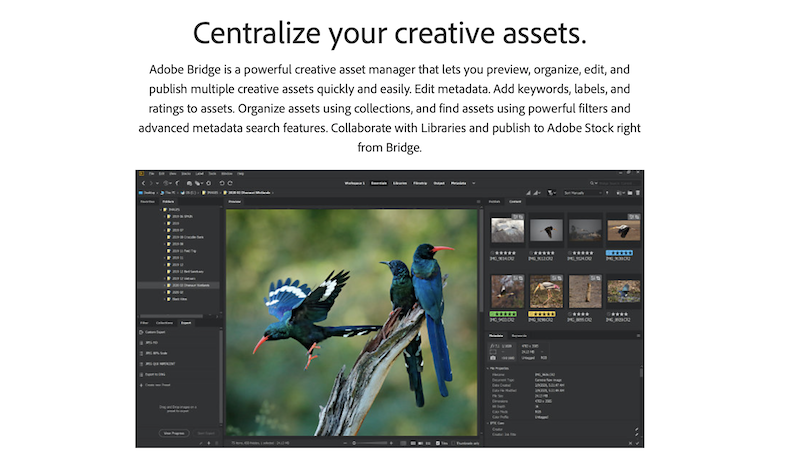 Pricing: Free
Platform: Desktop Apps for Windows and macOS
All of the above-mentioned tools help you organize and manage your libraries, which is great, but they can't do it all for you. You still have to, at the very least, save and tag your resources yourself. But that is true for any library-management tool.
In addition to running apps like the four reviewed here, we recommend you check out the How to properly organize your design files forever article by Reinoud Schuijers. Organizing folders this way may sound like a huge effort, but it is much easier than looking through your files again and again in a search for that one photo you need for your presentation.
In conclusion: Adopting a filing system and running great apps to support it will save you precious time that can be used for other important things.
Having references in order makes working with them easier and less frustrating. To learn a great way of using references in your work, read our article How to Design Stunning User Interfaces Using Great References.