Sympli Versions: Introducing Workspaces

March 17, 2021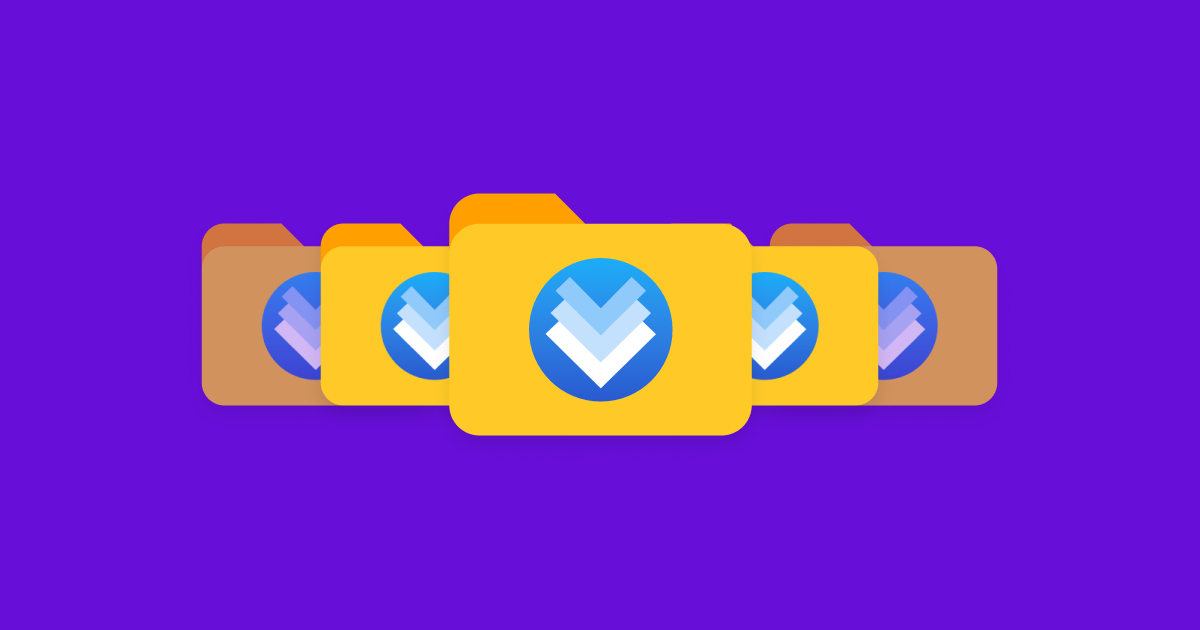 Need an easy way to organize and manage your subscriptions, transfer ownerships, and deactivate users to free up seats in Sympli Versions? Meet Workspaces. This new feature allows you to create workspaces inside your Sympli Versions account. That is: Designated shared spaces where teams can work on selected projects.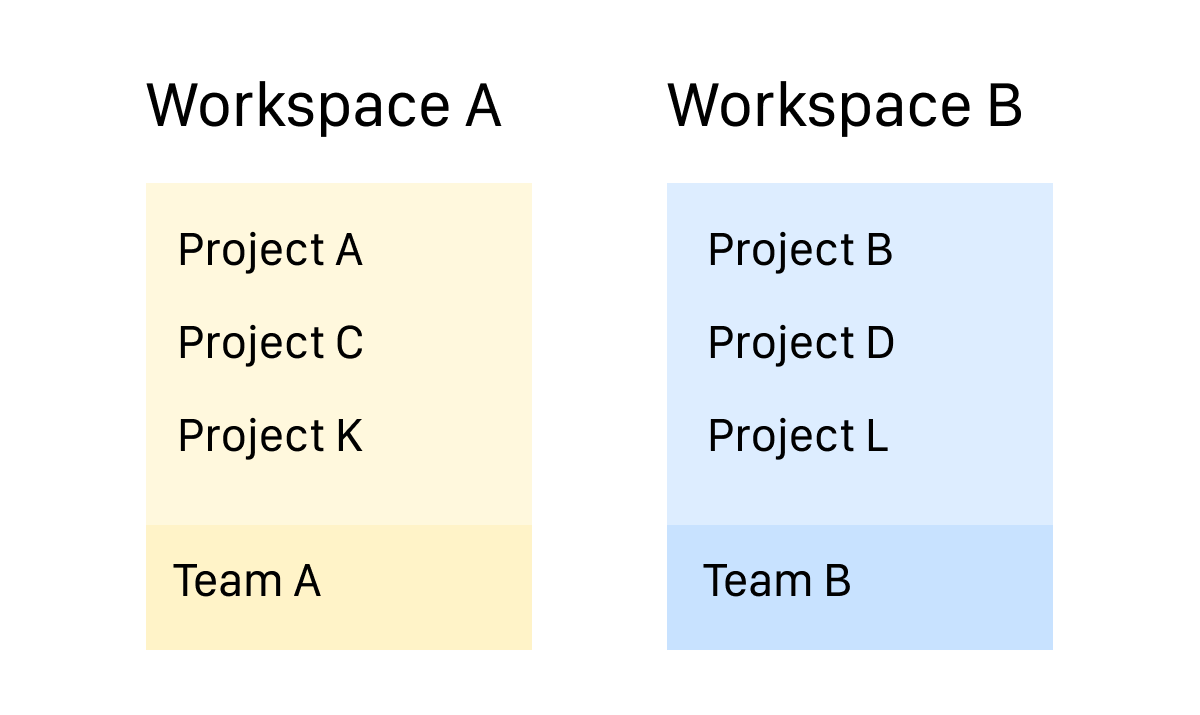 What you can do with Workspaces:
Create separate Workspaces for different projects or teams and manage their subscriptions separately
Activate and deactivate Workspace users to save seats in the subscription
Put any user in charge of billing by assigning them the role of an Accountant
Transfer workspaces and their contents to another owner by yourself in a couple of clicks
How it works
To organize and manage your workspaces:
Open your Profile Page in the Sympli Versions WebApp.
Click on the Workspaces tab to open the Workspaces Manager.
In the Workspaces Manager, you'll notice a Create Workspace button and a list of the active workspaces below it.
By default, you start with one workspace - your personal one. It is marked with a star and is located in the My workspaces section. Use the Create Workspace button to set up new workspaces, which will be listed under My workspaces once created. Another section, Accessible workspaces, lists all the workspaces you have been added to.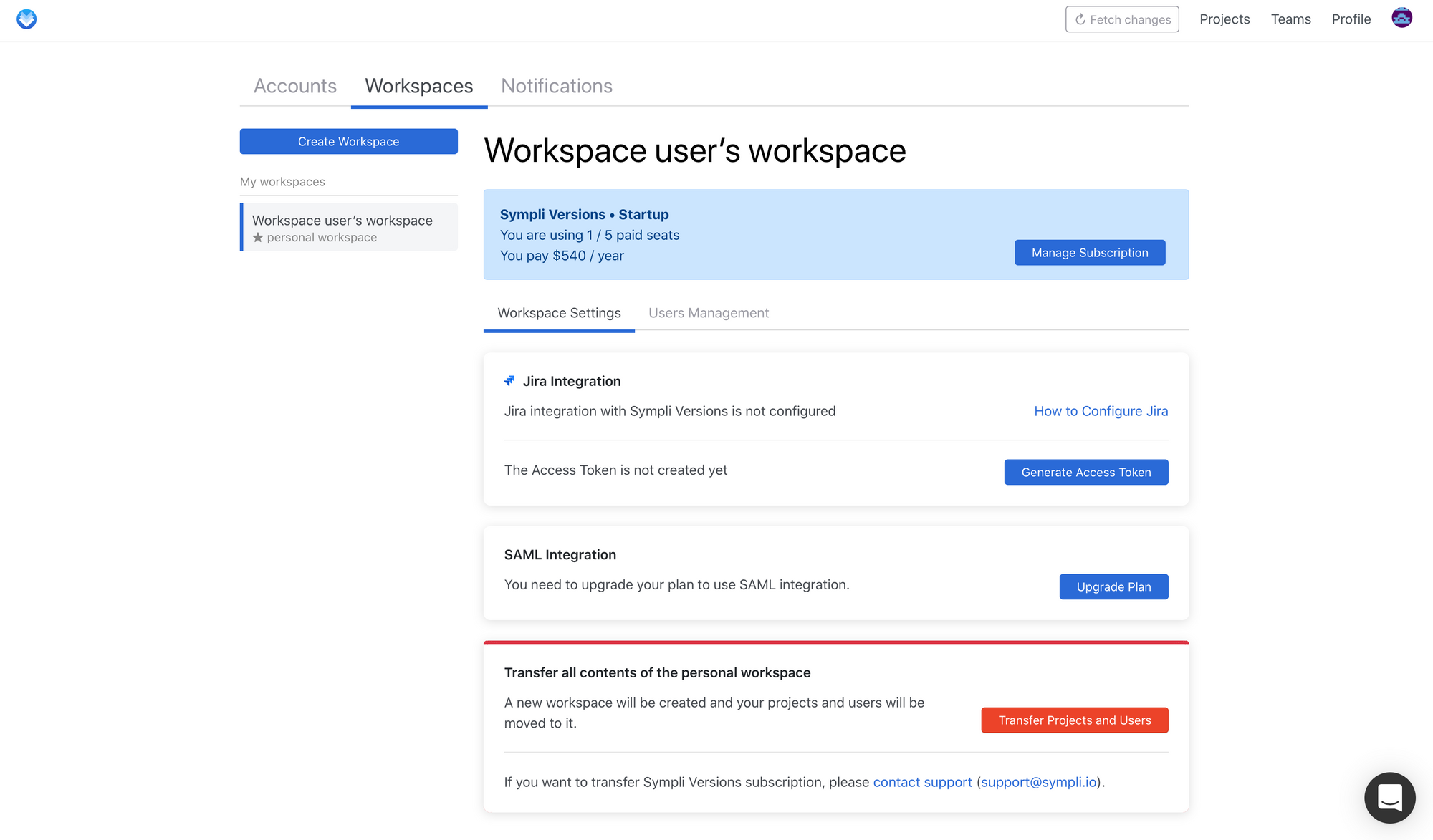 Navigating your workspace
Once open, you will see a summary of your subscription details. Click on the Manage Subscription button to access your billing settings. Every workspace has its own subscription, which can be managed separately.
Next, open the Workspace Settings menu. This allows you to:
Manage seats
Set up Jira integration
Set up SAML (if you have an Enterprise plan)
Transfer contents of the personal workspace
Transfer ownership of the workspace*
Delete the workspace
*If you want to transfer or delete Sympli Versions subscription, please contact support (support@sympli.io).
Finally, let's take a look at the Users Management menu item. From here, you can add new users to the workspace, assign and manage their roles, and activate or deactivate them. You can also assign an Accountant role to any one of your teammates, thus making this person responsible for managing the subscription.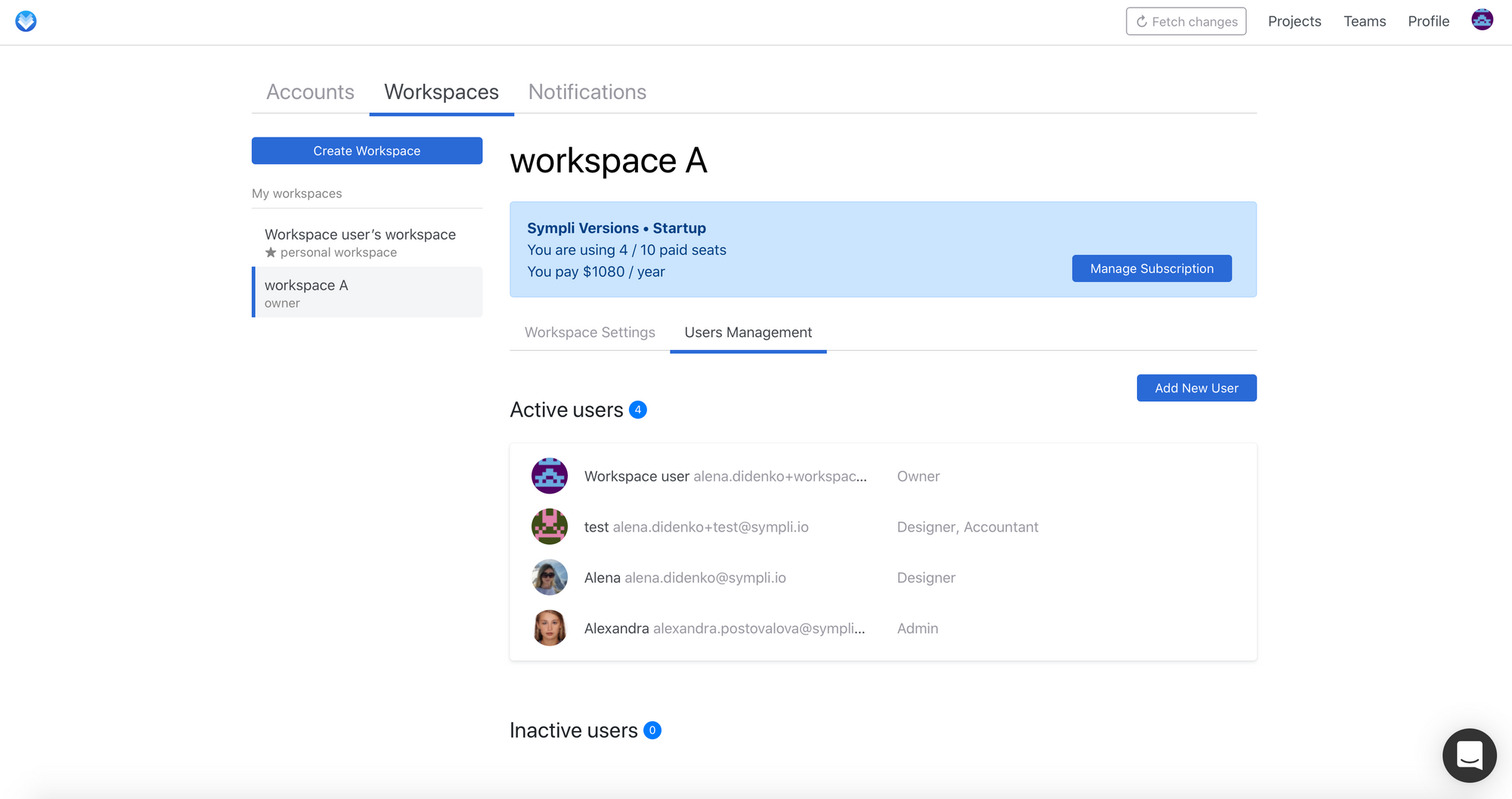 To learn more on how to create and manage workspaces, subscriptions and seats, please refer to these articles:
How to add a new user to a workspace in Sympli Versions
How to transfer the ownership of the workspace to another person
How to transfer the content of a personal workspace to another workspace in Sympli Versions